Contact us
Working time
Monday to Friday :
8:30-17:30
Saturday to Sunday :
9:00-17:00
Contact us
Tel:0317-8308862
Fax:0317-8308861
Cell phone:13932734032
Contact: YangYao
E-mail:
[email protected]
Online Service
Three laminated tile machine
date:2015-01-31 15:44 Click on the: Time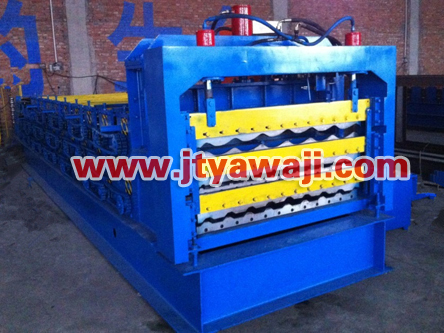 Three steel tile forming machine Memo: The device uses the latest three-tier design, a machine with three, small footprint, easy to transport and cost savings. Our sales service, and can be specially designed and manufactured according to user requirements, while the user guide, production, installation, commissioning and maintenance. Product categories: roof, wall panels forming machine Technical parameters: length × width × height 6400mm × 1500mm × 950mm molding axis: Diameter 70mm 45 # quenched forming wheel: Material 45 # forged chrome plated Transmission: sprockets, chains motor: 3KW forming rows: 828 (9 rows) 850 (9 rows.) 840 (11) automatic computer and Cutting system: Pumping motor: 3KW four cut die: Gr12 forming speed: 8- 10m / min to suppress thickness: 0.2-0.8mm width repression: 1000m the models affordable, three models can be synthesized a device that saves floor space, and cost far less than three three single machine is a user choice.